NEWS
September 22, 2023
The U.S. government has asked the U.S. Supreme Court to temporarily stay an appeals court order limiting the federal government's communications with social media after the lower court declared that government officials had violated the First Amendment by threatening, coercing, and pressuring those companies to censor posts the government did …
---
September 22, 2023
The Wisconsin Public Service (WPS) Foundation is celebrating a memorable milestone in improving lifesaving efforts across north central and northeast Wisconsin.
---
September 19, 2023
If there's one thing there's no shortage of in the ongoing expired road easement issue in Lac du Flambeau between the Lac du Flambeau Band of Lake Superior Chippewa Indians and the town is legal action.
---
September 19, 2023
Trick-or-Treat takes to the forest, as the YMCA of the Northwoods once again hosts the "Not So Scary" Halloween Trail on the Stoney Pines Trail behind the Y on Saturday, Oct. 21, from noon to 3 p.m.
---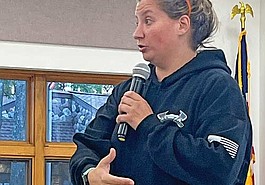 September 19, 2023
The Manitowish Waters town board held a public hearing Sept. 12 with regard to forming a four-town emergency medical service (EMS) district. Manitowish Waters, Boulder Junction, Presque Isle and Winchester are the four towns involved.
September 19, 2023
Words are powerful. They can heal us. They can clear up misunderstandings. They can build bridges. They can connect us.
---
September 19, 2023
Two Northwoods lawmakers, state Sen. Mary Felzkowski (R-Irma) and Rep. Rob Swearingen (R-Rhinelander), are expressing concerns about the Department of Natural Resources (DNR) revised wolf management plan, especially the addition of circular buffer zones around tribal lands that call for reduced wolf harvests within them.
---
September 19, 2023
The Woodruff and Lake Tomahawk town boards last week gave their approval to all terrain vehicle (ATV) and utility task vehicle (UTV) trails in the Northern Highland American Legion State Forest.
---
September 19, 2023
One man was arrested late Friday morning as the result of an incident at the St. Germain Elementary School.
---
September 19, 2023
The Newbold town board on Sept. 14 formally agreed to support the Oneida County Biking and Walking Trail Council (OCBWTC) in pursuing National Recreation Trail (NRT) recognition for the trails at Rookery Run.
September 15, 2023
The Tomahawk Circle Singers perform for an inter-tribal dance during the Wild Rice Festival Pow Wow on Saturday, Sept. 9, at the Waaswaaganing Indian Bowl in Lac du Flambeau.
---
September 15, 2023
The opposition by the Cassian town board to plans for an adolescent recovery and wellness center (ARWC) that the Great Lakes Inter-Tribal Council, Inc. (GLITC) plans to build on 154 acres it purchased on North Pine Square Road in Cassian is now official.
---
September 15, 2023
If you think your high school class is good with keeping in touch, you may want to think again. That's because it's evident that Lakeland Union High School's (LUHS) graduating class of 1963 has mastered the art of high school reunions (that is, if you want to consider class reunions …
---
September 15, 2023
A meeting was held Tuesday evening regarding the permanent rule to be put into place for the Department of Natural Resources' (DNR) proposed wolf rule WM-03-21.
---
September 15, 2023
The annual meeting of the Minocqua Museum will be held on Sept. 20 at Norwood Pines.